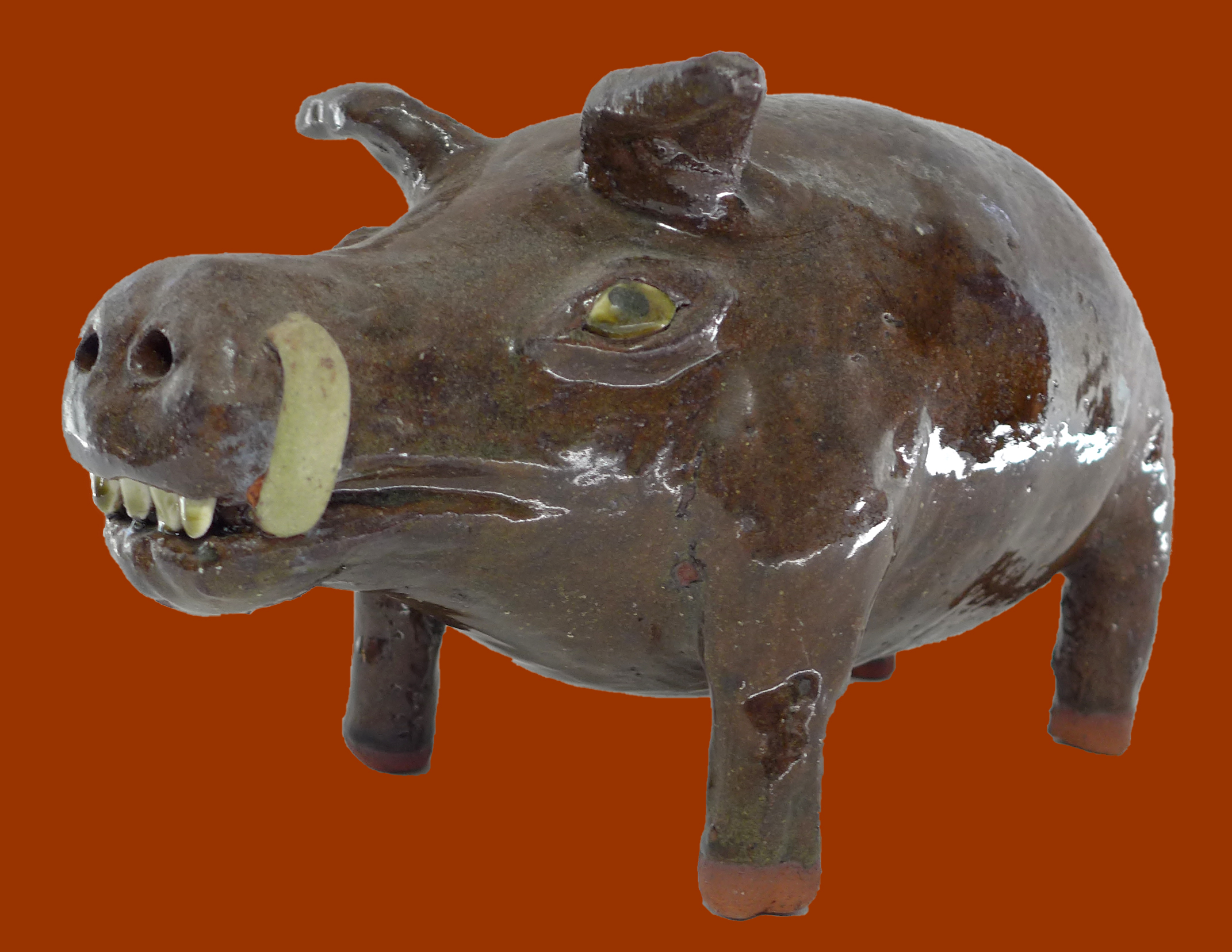 You might have already noted that although this piece has a lot of the characteristics of a face jug, it isn't a jug. Although Reggie Meaders made face jugs, he also sculpted many animals. This glorious "warthog" was a favorite of his. Although "warthog" properly refers to the African species of feral pigs, many Americans (especially in the South) call our American feral pigs "warthogs." Reggie Meader's depiction of them shows the distaste that Southerners have for feral pigs which are basically taking over huge areas of farmland and even suburban yards, uprooting plants and destroying the land in their wake. What hoot to be able to have your own warthog without worrying about your property—you don't even worry about him eating your houseplants!
The Meaders Pottery was founded in 1892 by John Meadors, in Mossy Creek, White County, Georgia. Interestingly, John was not a potter and he hired a potter to start up the pottery and teach the trade to his sons. Son Cheever took over the original pottery which was later passed to Lanier Meaders who revitalized the market for Meader's Pottery, as well as the market for Southern pottery by making alkaline-glazed face jugs with kaolin eyes and teeth in the tradition of the South. It is thought that the origination in the US for face jugs were slaves and that the slave potters were adapting the Congolese African tradition of the "nkisi." A nkisi is a ritual object with a human like form used to gather and hold evil spirits to keep them from entering a home or grave. As the interest in Southern face jugs grew, Lanier's younger brother, Reggie, returned to the pottery where he grew up and created his own creature jugs/sculpture. He created his own distinctive style, that included the animals he created and the colors of glaze he used. Reggie died in 2009 at the age of 90.
This hard to find Reggie Meaders Warthog is 6" tall x 10 ½" long and has a wonderful reddish-brown mottled with green. It is a perfect glaze color for a warthog since they are always covered with mud and dirt that clings to their stiff body hairs. Its teeth seem to be drip with mud and its massive tusks wrap around the snout. The belly is signed "Reggie Meaders." There are a couple of small areas of glaze loss. I think this was done during the firing because they don't look like the kind of chip caused by accident. The last two photos show the two areas in detail.
#6605 $995
Reference: Mooney, Claudia, Face Jugs: Art and Ritual, Milwaukee Art Museum blog; https://blog.mam.org/2012/05/02/face-jugs-art-and-ritual/ (In 1893, South Carolina plantation and pottery owner, Thomas Davies told author Edwin Atlee Barber that he remembered his slaves making face jugs during their free time in 1862.)