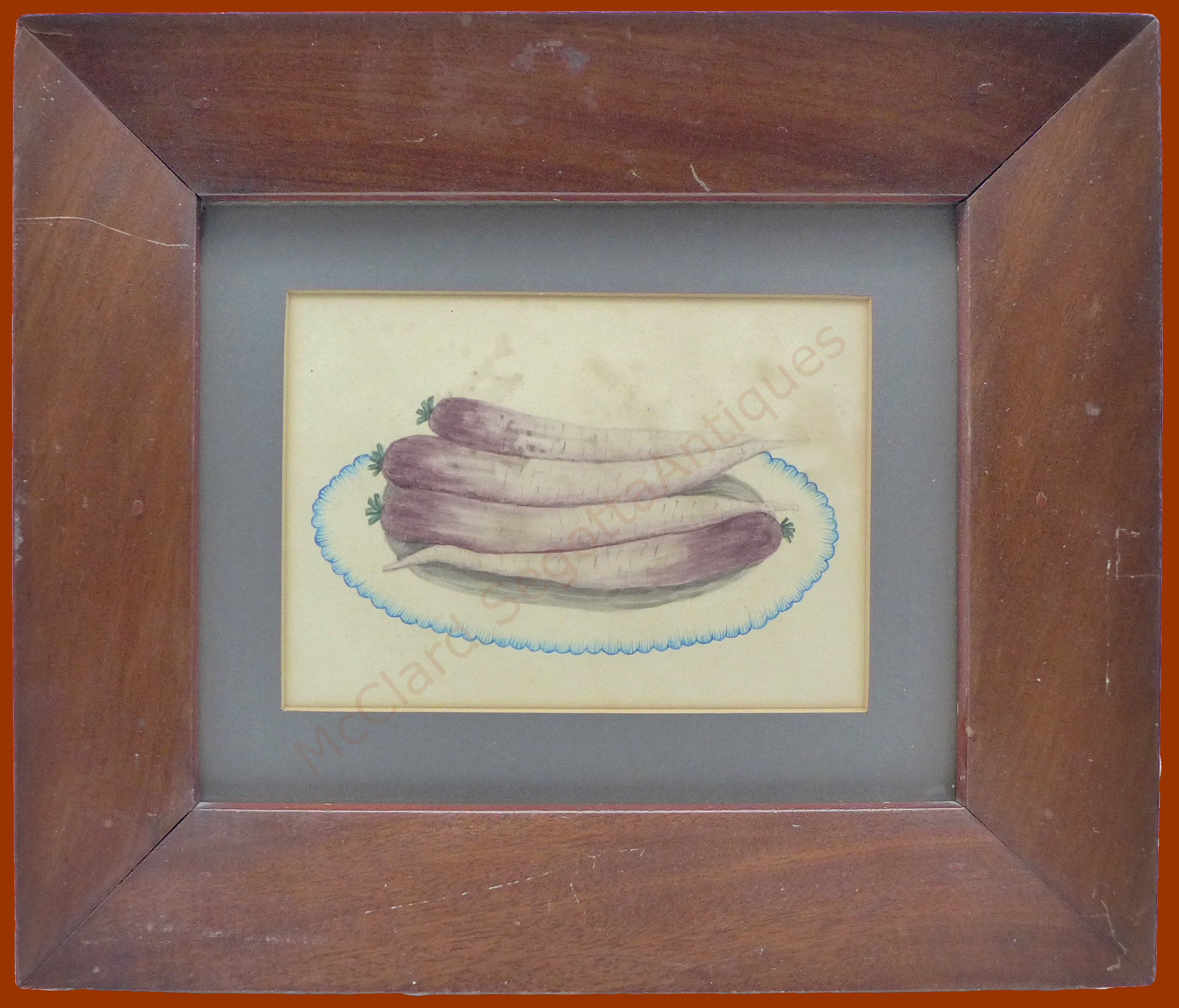 We love this creativity that went into this sweet theorem. Theorem was often taught in girl's schools in the early decades of the 19th century. Circa 1840, ladies' magazines offered instruction and drawings that could be cut out to use as stencils in theorem painting. Without regurgitating information that you can read in our website article "Theorem Painting in America," theorem is a painting process, not a design although many freehand paintings are sold as "theorem" simply because of a still life subject. This lovely little still life of parsnips laying on what appears to be a blue feather edge platter. We assume that the stencils used to paint the parsnips were drawn and cut by the artist without the aid of a pattern—because a plate of parsnips seems like an unlikely subject.
A period inscription on the reverse of the theorem paper says, "Done by Elma M[e]. Sharpless / 1840." Elma may be the daughter of Smith and Sarah Sharpless who show up on the 1850 federal census for East Goshen, Chester, Pennsylvania. The census indicates that Elma was born about 1824, which would have made her 16 when the theorem was created in 1840. Elma's father was a farmer and, if she did not have the privilege of going to a girl's academy, she may well have learned the technique of theorem painting from a magazine and was creative enough to come up with this lovely, unusual design.
The modern mat is unfortunately glued to the top of the theorem paper. On the reverse of the frame is another inscription saying the same and written on a jelly label stuck to the frame back. The jelly roll inscription is not same hand and the ink shows that it is later than that written on the paper. The theorem resides in a period mahogany veneer frame with canted profile has a few scratches and measures 10 3/8" x 9." Condition is good with just a little staining of paper (and, of course the fact that the paper is glued to a modern mat. It makes a lovely package that would fit in a mid-century setting as well as it would a country or colonial setting. Circa 1840.
Inv. #7060 $395
Please see Theorem Painting in America for more information on this wonderful form of folk art.