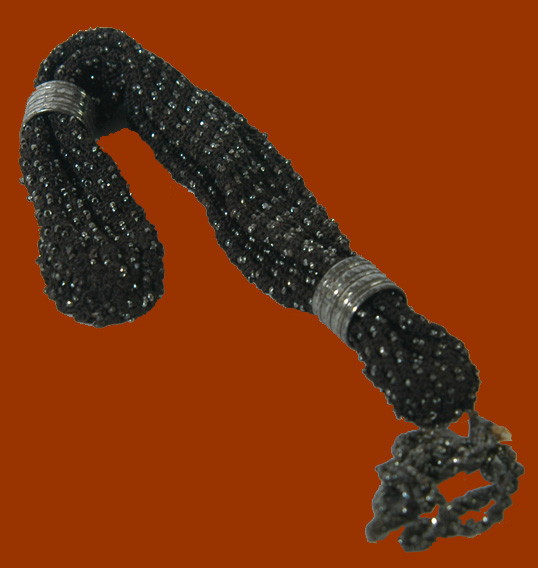 This is a wonderful mid 19th century miser's purse with cut-steel beads knitted together with a dark brown fabric. The 10" long purse is finished with an additional 2" long tassel of cut=steel beads. The closure rings are steel with beaded and cut facet decoration.
Miser's purses (known in the period as "long purses", "short purses" or "gentlemen's purses") were designed in the late 17th century to carry coins. The purses have a stocking-like appearance and often have one square end while the other was round. The ends are called "toes". The differing ends allowed the owner to tell what denomination of coin was in each toe without the trouble of opening. Instead of differently shaped ends, this purse has a tassel only at one end for instance denomination recognition. The middle of these purses have a slit in which the coins could be inserted. Both rings were slid to one side of the slit so that the coin could be placed inside. Then the coin was slid into the desired tow and the ring closest to that tow was slid down to hold the coins in place. The other ring was then slid past the slit so that an different denomination could be inserted and slid into the other toe of the purse. That ring was then slid down to hold the coins in place. The purse was dubbed "miser's purse" because of the difficulty in sliding the coins back to the center slit to be removed. The third photo shows a coin inserted into the slit. The last photo shows the purse "buttoned up" with the coin down into the toe and the ring slid to hold it tight. Miser's purses were popular until the beginning of the 20th century. They were used by men and women and could be worn over the belt or sash. Early purses ranged in size from 4" to 36". This 10" purse is typical of mid-19th century styling as are the cut-steel beads.
(#962) $125
Please see the Antiques and Vintage Purses page for more nformation.
Also see, Camerlengo Laura L., The Ubiquitous Miser's Purse, MA Program in the History of the Decorative Arts and Design Cooper-Hewitt, National Design Museum, Smithsonian Institution; and Parsons The New School for Design 2010.