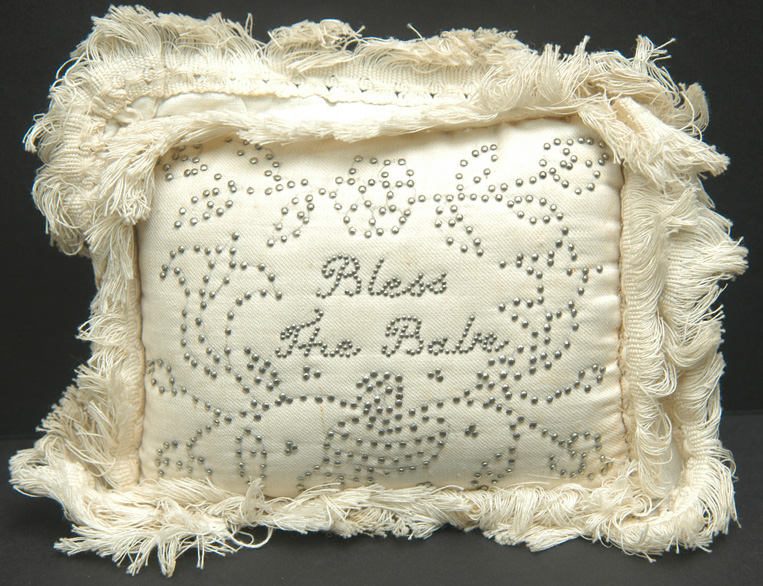 These pillows or cushions are commonly referred to as christening pillows or cushions. Brandt & Cullman tell us that these wonderful pin cushions were hung on the front door to announce the arrival of a baby to friends and neighbors.1 I suspect all three of the pillows I am listing today were given as gifts to the newborn's mother and were kept indoors. There is no indication that any ever had a ribbon for hanging and all three are quite heavy from the straw stuffing.
Steel pins form the sentiment
Bless
The Babe
The pins are handmade in two parts. First, a wire was drawn, straightened, cut, one end was sharpened. and the other was ground to accept the the head. Then a handmade head was added (if you look with a loupe you can see that the head fits like a collar around the straight pin). Finally the entire pin was polished and the pins were placed in a paper packet for sale. By 1776, American pin factories were turning out 5000 pins per day.2
The pin decorated sentiment "Bless The Babe" is surrounded with floral and leaf border. The image of the full pillow is a bit lighter in color than reality because of the flash bouncing off the ceiling. The close up images are more correct to color. This is the smallest of the collection at 5" x 4" plus the frill. The front fabric appears to be some type of worsted cotton. The back is cotton. The edging is double frilled fabric tape. The back frill is sewn onto cotton fabric so that it extends out from the front row of the frill. The pattern lines are visible behind the pin decoration, but the lines are quite faint in color. There is a large but faint yellow stain on the reverse. There are a few scattered pinholes on the reverse, but the stuffing is quite tight and safe. Remember that mothers were given these pillows so that they had pins to use for the baby's diapers and clothes. It is likely that Mom flipped the pillow over and used the reverse to stick pins in when they were not in use. This pillow is in very good condition. Circa mid-19th century.
I was extremely lucky to acquire a private collection of these rare cushions. Please take a look at all four that I'm listing today! The last image in this listing is a group shot.
(#5042) $425
1Brant, Sandra & Cullman, Elissa, Small Folk A Celebration of Childhood in America. E.P. Dutton, New York, 1980. 43.
2How Products Are Made::Volume 7, Straight Pin. http://www.madehow.com/Volume-7/Straight-Pin.html
Please see the Christening or Birth Pillows page for more information about these rare survivors.