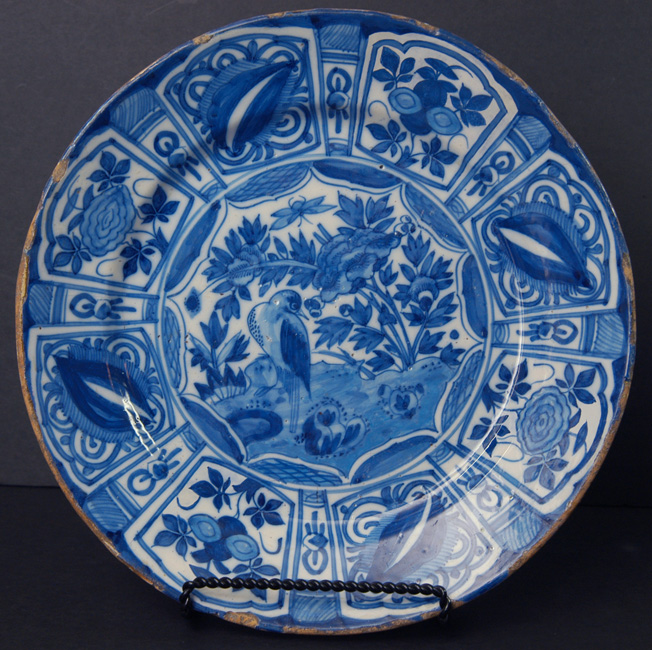 This a stunning 12 3/4" Delft charger in the Kraak style. Kraak is a Dutch term for Chinese export porcelain of the late 16th to early 17th centuries. The demand for Chinese export porcelain was so great, and the Dutch were such great business people that they decided to copy the porcelain. It took many generations for the Dutch to perfect the highly fired thin porcelain of the Chinese, but they quickly learned to make lovely Delft earthenware with Chinese designs. Delftware became hugely popular in Europe and the emerging American Colonies. Kraak porcelain was first introduced to the Dutch by captured Portuguese trade ships (Carracks) in 1602 and 1604, and the porcelain is thought to have been named after those ships. Kraak refers to the blue underglaze, the center motif and the radiating decorated panels all decorated in the Chinese style.
This eye-catching massive charger has a vibrant blue color. The center motif includes a bird, stylized large flowering plants, a butterfly, smaller flowers and decorated scallop edges to the bowl which lead into the panel designs of the edge. The panels are decorated with flowers and a design which might be a stylized fish. There are a few glaze bubbles on the front of the charger, edge wear to the glaze. The back has more glaze bubbling, especially in the center. The bottom rim was made with two holes so that the charger could be hung on the wall. There are three kiln stand marks. There has been some good restoration somewhere in the charger. I can't find the restoration, but the plate doesn't sing when thumped. None of this is unexpected for a 350 year old piece of earthenware.
This is an outstanding circa 1650 large Dutch Delft charger.
(#4514) $1650