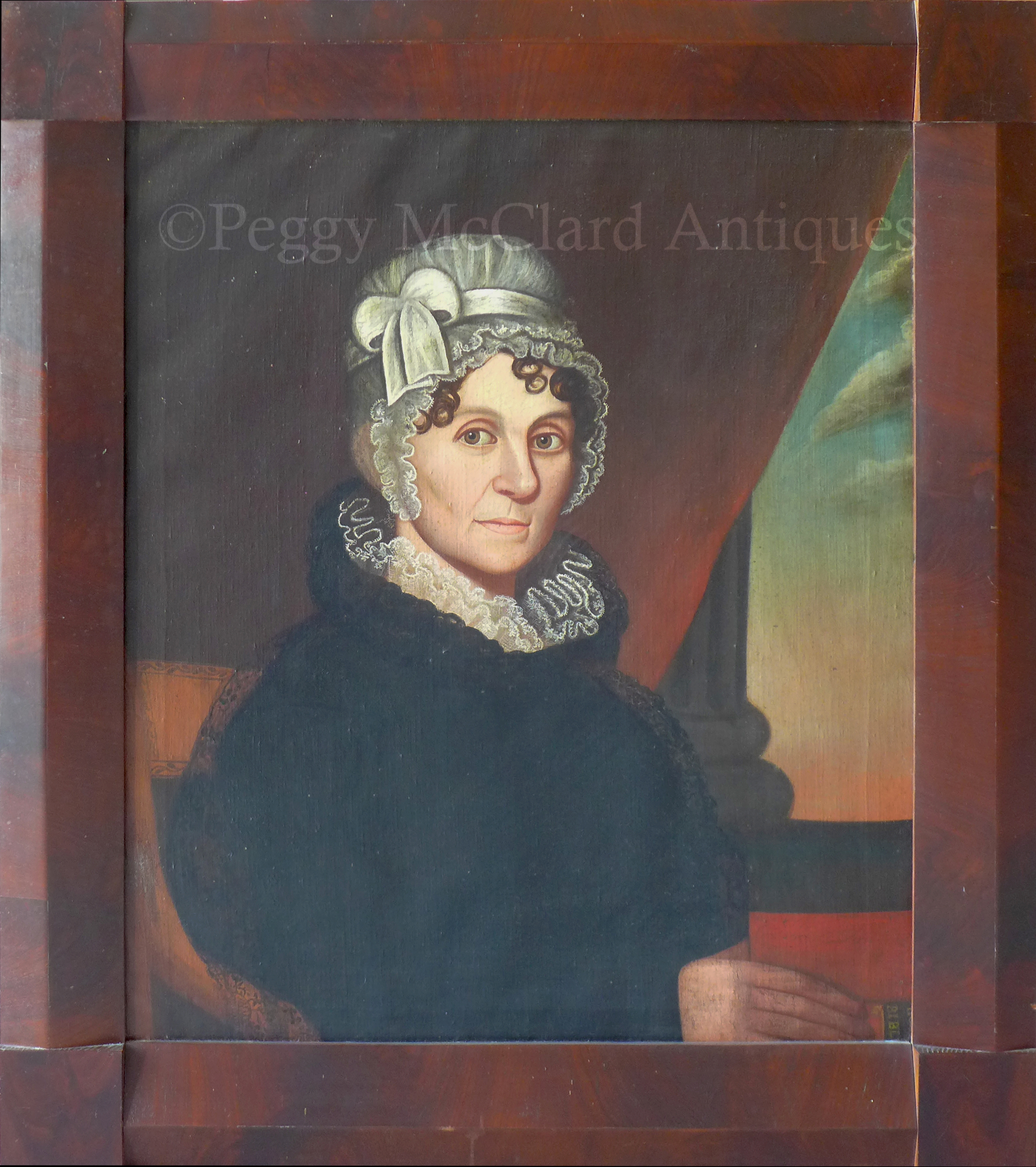 Zedekiah Belknap was known for his full-size portraits that are bold and decorative. This magnificent pair of large portraits certainly fill the bill in their equally magnificent mahogany veneer corner block frames. They command attention from everyone in the room. This is a spectacular pair of portraits by a very well collected artist. They have a great provenance and, having come out of the collection of well-known folk art scholars, Arthur & Sylvia Kern, they have been well researched and exhibited.
This pair of portraits is strongly attributed to Zedekiah Belknap (1781-1858) and depict Reverend Edmund Mills and wife Abigail Moore Mills of Sutton, Massachusetts. Reverend Mills was born in Kent, Connecticut in 1752, graduated with a degree in theology from Yale in 1775, and in 1789 married the widow Abigail Moore. Abigail was the widow of Rev. Winslow Packard with whom she had two children. Edmund and Abigail settled in Sutton, MA, where they lived the rest of their lives. Edmund died in 1825 and Abigail in 1853. The couple is buried in Sutton Center Cemetery. I found some support to the couple having six children: Polly (1790), Edmund John (1791), Abbie Moore (1793), Maria Swift (1794), an unnamed infant either born dead or died in infancy (1797), Lewis (1800), and Henry (1802). (Reverend Mills certainly kept Abigail busy!) The good Reverend was ordained pastor to the First Congressional Church of Sutton on June 23, 1790.
According to a friend's comment in the Benedict and Tracy text cited below, "the likeness [of Mr. Mills] is not a good one; it represents him bald-headed and inferior... I went fishing with him only a few weeks before his death and thought him one of the noblest men I ever saw... When a small boy, having been told that God made men in his own images, I thought he got the best likeness in George Washington and the next best in Mr. Mills." Condition: Unlined, minor inpainting. Size 30" x 25" sight, 33" x 38" frame. I offer them at a wonderful price for a stunning pair of portraits with such a great provenance.
Provenance: Descended in the family of the sitters to Grace Mills Jordan; by bequest to Mrs. Jordan's friend Miss Louis Ray; Bob Cleaves; Purchased (by the Kerns) from Jim Bakker, Boston, Massachusetts, at the Concord Antiques Show, 1977; The Arthur & Sybil Kern Collection of American Folk Art.
Literature: William A. Benedict and Hiram Tracy, History of the Town of Sutton, p. 308, illustrated.
Exhibitions: "Reflections of 19th Century America: Folk Art from the Collection of Sybil B. and Arthur B. Kern," Museum of Our National Heritage, Lexington, Massachusetts, September 19, 1979-June 15, 1980.
#6443 $4650