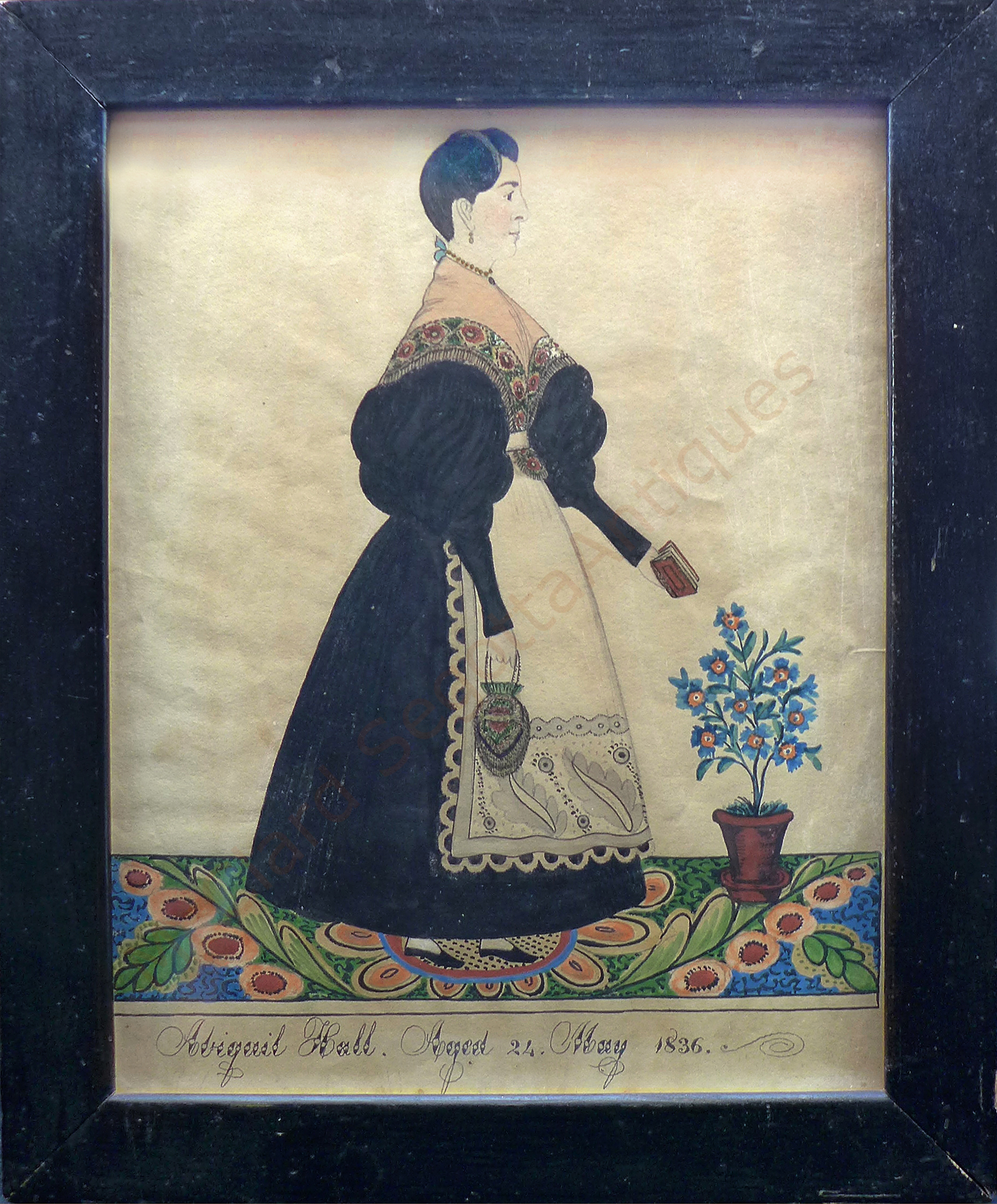 Joseph H. Davis was born 1811 in Maine, his first known painting created in 1832. His most prolific years as painter 1835-1837. Interestingly, one of the six known signed works by him is signed "Joseph H. Davis/Left Hand/Painter." Both the increase of his success as a land trader and the impending birth of his daughter in 1838 may have contributed to the end of his career as an artist in 1837. The life of a 19th century itinerant painter required much travel but paid little—Davis charged $1.50 per portrait whereas he earned a good living and could stay at home as a land trader.
His fancy watercolor portraits are simple and formulistic while being stunningly representative of the exuberance of the American Fancy Period. The trademark of Davis' work is his glorious use of color and pattern in the vibrant floorcloths or patterned floor decoration that he placed under most of his subjects' feet and the garishly grained or paint decorated tables and chairs he included in family portraits.
Although he signed very few with his name, we are lucky that Davis often inscribed the bottom of his full-length portraits with the names and sometimes ages of the sitters. This lovely folk portrait is of Abigail Hall when she was 24 years old and was taken in 1836. According to our genealogical research, Abigail was probably born in Merrimack, New Hampshire in 1812. She married Samuel Kimball (a farmer who was her senior by 28 years) in 1844 in NH. According to an inscription on reverse of this painting, she had at least 3 children (according to the inscription). An 1850 state census identifies the children as James, Charles & Frances. (The inscription only names the second child as "Charles Eri"[middle name not legible]. However, unlike the inscription, our research shows the 1850 federal census has her living with husband, Samuel Kimball, Alva Kimball (at 24 years old he must have been a child of a previous marriage) and 2 year old Samuel O. Kimball. The inscription states that her first child was born August 18, 1845; the second, Charles, born June 15, 1846; third child born April 11, 1847. If the inscription is correct, Abigail was pregnant for almost the entirety of 3 years—only 9 months between first two children and 10 months between second and third. It is noteworthy that it is hard to say whether the inscription is period. Then, if the census listing of another child, Samuel O. Kimball is correct, he was born in 1848, meaning she was pregnant for 4 years. It looks like the ink may be brown, but the paper is browned and may have changed the color of lightly written later ink.
Abigail is painted onto 8" x 10" wove paper. She resides in a period black painted wood frame that measures 11 ¼" x 9 ½." The paper is a bit wrinkled with expected toning and there are small losses of gum arabic used to show detail in her black dress. The colors in the patterned rug or floor cloth and the colors in the border of her neckerchief, reticule, book and the potted flowering plant are vibrant. This portrait is noted in Three New England Watercolor Painters on page 59, #37 (in appendix noting all paintings by JH Davis known at the printing in 1974. An image below shows the notation in the book and a copy of the book will go to the buyer. This is a fabulous piece of American folk art.
#7109 POR
Provenance: Collection of Dudley and Constance Godfrey; Possibly lent to the Milwaukee Art Center, circa 1976.
Publication: Savage, Gail & Norbert H., Sparks Esther, Three New England Painters, The Art Institute of Chicago, 1974. 59, entry 37.
Please see the Folk Portrait Artists page for more information about Joseph H. Davis