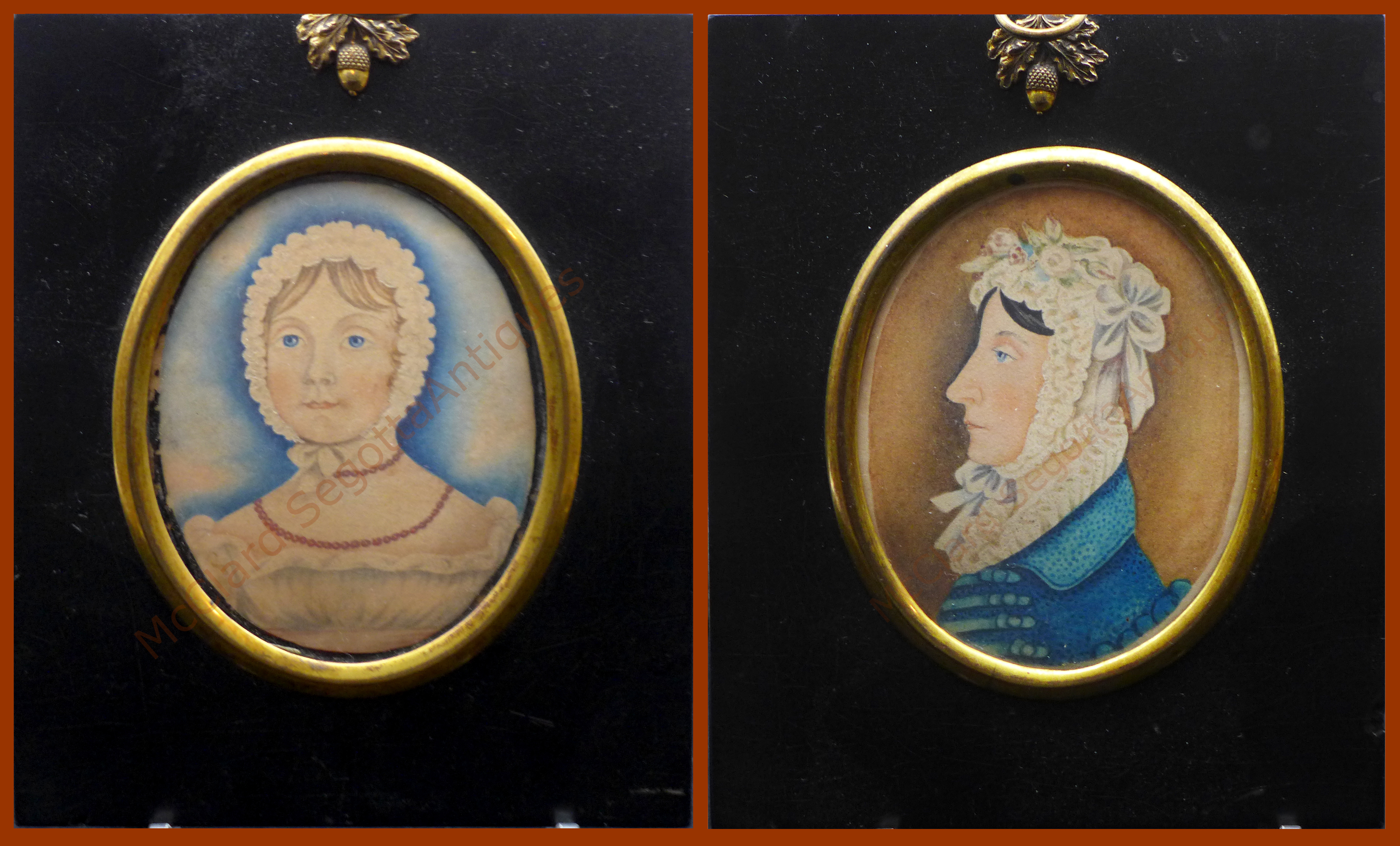 This is a great pair showing how the same artist handled profile and face-forward portraits of two woman. It seems that Mom wanted her portrait take in profile. So the artist paints her in her vibrant blue dress with a ruffed neck over a turned down collar. Her match the color of her dress. She also wears her best ruffled and flower-adorned bonnet which shows to it's best advantage in profile. The folk artist (maybe an itinerant set up at a market) gives her a brown background and he gives her light from the side so that she casts her shadow in front of her profile.
Now, daughter has even more vibrant blue eyes than Mom. So her portrait is at the advantage facing the viewer who can fall into those eyes. Her bonnet has a ruffle in the front and ties under the chin (both are like Mom's in those aspects) but not so much adornment behind that front ruffle. The artist makes Daughter's portrait more simple with her white empire dress with the white ruffle around the top of her low, square neckline. Her double strand of coral beads gives Daughter another draw for the viewer (her blue eyes being the first draw). To finish this gloriously simple composition, the artist gives Daughter a vivid blue background as a halo that fades at the edges. This is a remarkably simple and stunning pair of folk portraits.
Period papier mâché frames are likely original and measure 4.25" x 5.25 with sight size of 3" x 2.5. The frames are backed by early lined paper from a pharmacist ledger. I don't think that the paper is linked to the portraits as the paper is much later. But, we put it back on the frame backs after taking apart to add conservation materials. When opened we found partial "tug-packets" for a shipping company running between Glasgow, Greenock and Leith (all in Scotland). Again, we don't know if the tug-packets are related to the portraits, but we put them back in the frames, separated from the portraits with acid-free mylar. Circa 1820.
Inv. #7240 & 7241 $1975/pair