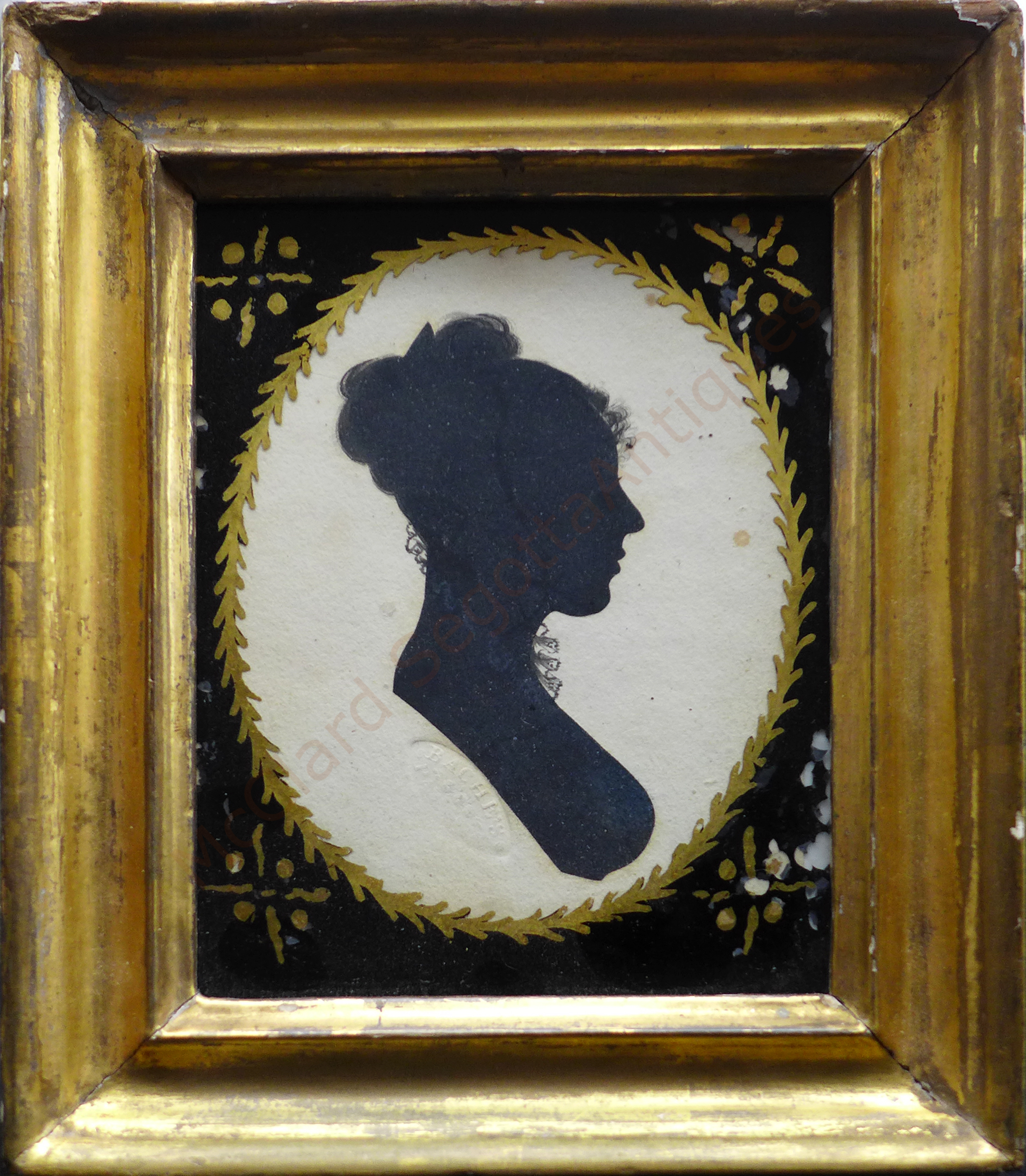 William Bache is one of the earliest recognized silhouettists and one of the few that traveled and plied his trade in the Southern States and the West Indies as well as Northeast US. He and his partners Augustus Day and Isaac Todd patented their own physiognotrace (tracing machine) in 1803. Bache created beautiful profiles in paint and hollow cut. He left behind a duplicate book full of cut & paste silhouettes that might have been the inside of the hollow cut silhouettes he sold. Bache signed his silhouettes with an impressed oval stamp that said BACHE'S PATENT with three stars between the two lines of letters. His work is recognized as some of the best done by 19th century silhouettists. Unfortunately, somewhere between 1812 and 1822 Bache's career was cut short when a tree fell on him and his arm had to be amputated.
Bache had a way with the ladies, which is to say that his silhouettes of women are more sought by collectors. You can see why when looking at this lovely painted lady with her wispy hair at her forehead and in her two hair knots. Her ruffed neck is almost ethereal with the light brush strokes that paint the black outline outside of her profile and the pale use of Chinese white within the silhouette. The signature stamp is very clear at the top half but it is less visible at the word "PATENT" although the "P" is still clear. The lady resides in a period gilt frame that has expected wear, including corners where the gilt and gesso has been knocked to the wood. It has a verre églomisé glass mat with a wonderful design but there is some loss to the black paint as you can see in the photos. The paper on which the woman is painted has remained quite white with just a few small yellow spots. Framed size is 5 ½" x 6 ½". Grab her while you have a chance because we don't get Bache's work often! Circa 1815.
#7178 $895
Please see the Silhouettist Bios page for more information about William Bache.