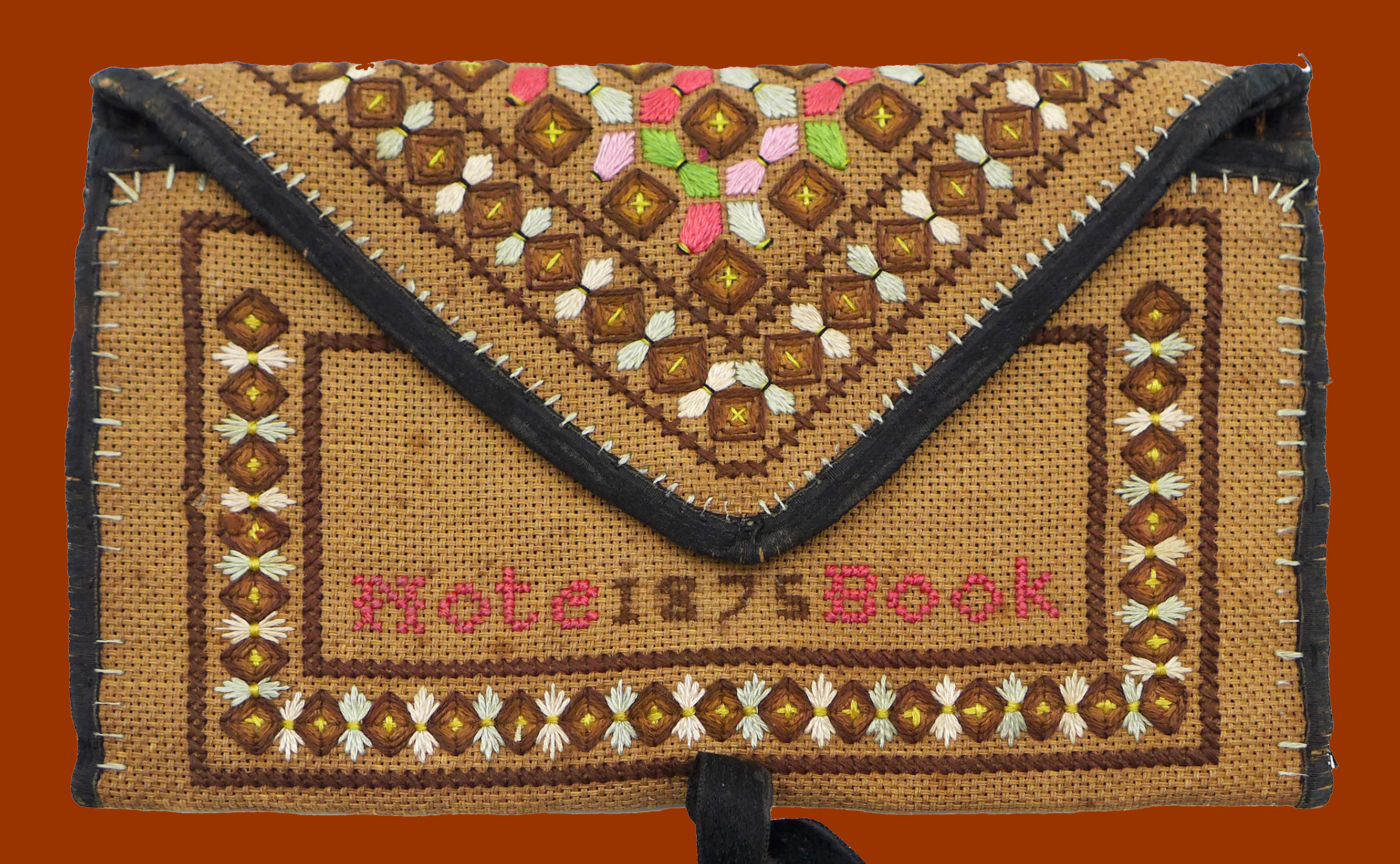 This is a lovely handsewn wallet in a form that we have not seen in our many years of collecting textiles. It is entirely representative of the early Arts & Craft Period in which the decorative arts transitioned into a time of importance of harmony between three elements: (1) simplicity of line, (2) "notan" (the balance of light and dark areas), and (3) symmetry of color. Gone were the days of vividly embroidered men's wallets of the 18th century, filled with Queen Anne's stitch or Bargello stitches covering the entire linen structure with flamestitch patterns. Now was a time in which the linen structure became important to the design and the colors used for the needlework were few in number and subtle earth tones and pastels worked into simple geometric designs. The thread of the outside needlework is either wool or cotton. The section that is partially covered by the triangular top when closed is inscribed in embroidery "Note 1875 Book".
This embroidered "Note Book" is an excellent addition to a purse or needlework collection as it represents an important growth in society and art. The Arts & Crafts Period from which it came was a period that moved our early folk art closer to the Modern Art it would soon influence.
The "Note Book" is completely hand-sewn with a natural unbleached soft linen outer structure and lined with rich black silk which also forms two inner pockets for use. The top part of the lining is embroidered with silk thread into tiny flowers of white and yellow with brown stems and green spiky leaves. When you look at the enlarged photos you can see that there is a tiny bit of thread loss with the yellow. It is very hard to notice without magnification. Tiny chainstitches of brown and yellow silk outline the inside of the wallet. Yellow chainstitches are also used to outline the pocket sections where early elastic and a bit excess fabric creates the pockets. (Elastic was invented by 1840 and was quickly adapted into clothing design.) There is very little thread loss with the grey thread that is sewn into the black velvet edging—you will need to study carefully to see it. There might be a tiny bit of other thread loss but we haven't found it. There is a little staining on the panel with the inscription—it shows much more in the photos than in real life.
A great transitional decorative art piece in excellent condition. The wallet measures 6 ¾" wide x 4 ¼" tall when closed and 11" tall when open. The ribbon for tying the wallet closed is black velvet and in excellent condition but it seems too short for use.
#6831 $950