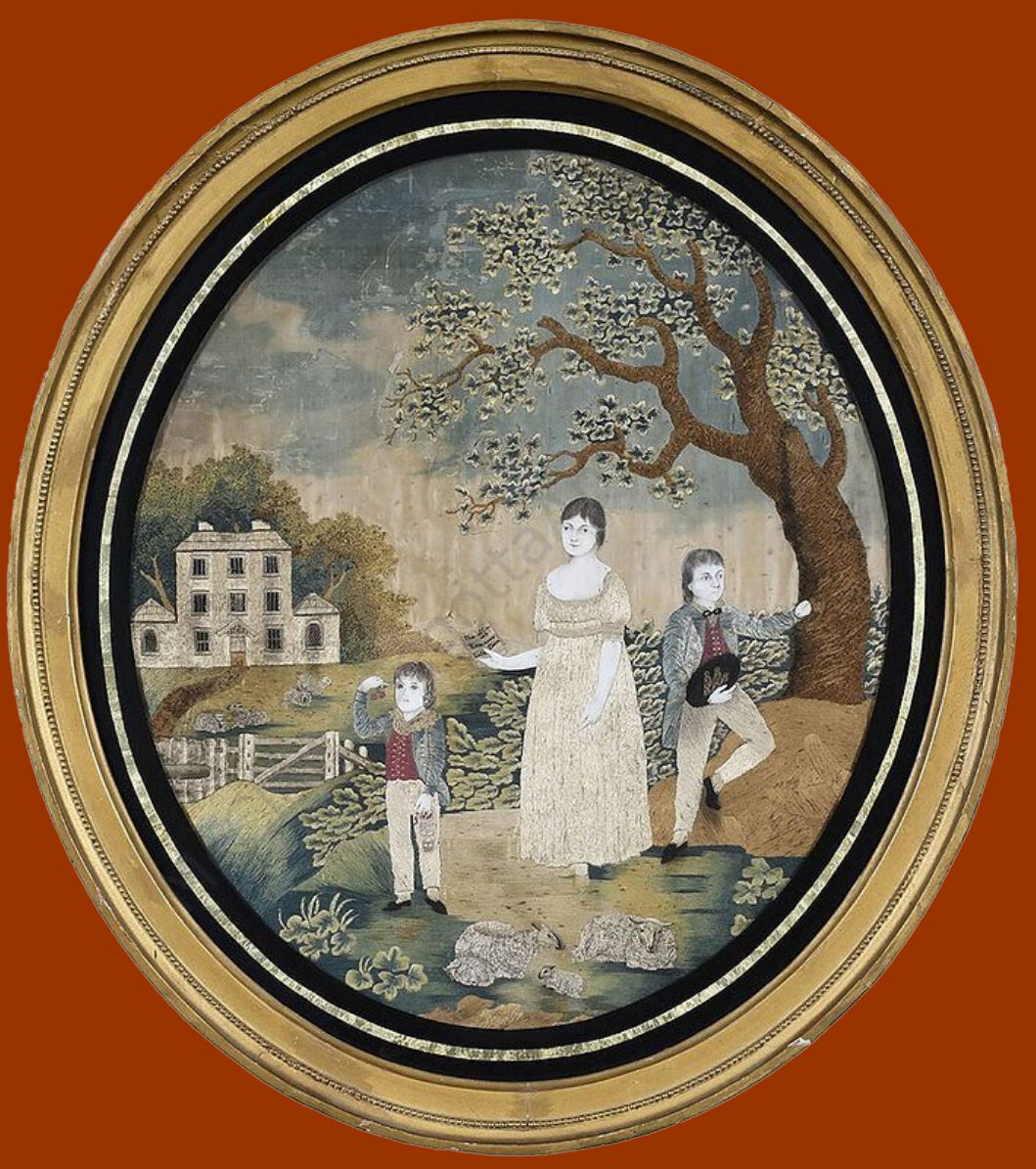 We have not seen another needlework such as this with the faces and hands painted onto thin slivers of ivory that are sewn onto the silk. The detail is truly fabulous and the execution is beautiful. A young lady and two boys stand in a pasture with lounging sheep and a fence and Georgian house in the background. A large tree stands behind them. The trio seems to be backed by shrubbery. The young lady holds an open book. We believe it says something about the life of Christ. The youngest boy holds a basket of cherries. The older boy is holding what appears to be his upturned hat with birds inside. The needlework is worked in a wide variety of stitches which gives the illusion of all kinds of textures. This extraordinary piece was conserved by the Merrimack Valley Textile Museum in 1985. The conservation report and invoice will go with the needlework. It shows that the conservation treatment included replaced backing and cleaning. The late, great textile expert Cora Ginsburg sold the needlework in 1981 and that receipt will also accompany the needlework.
The piece displays beautifully but there is some shattering and losses to the silk ground (especially in tree branches and sky), some fading, cracks and repairs to the frame. Because it is conservation mounted, we have not examined it out of frame. The image measures 21.5" x 18". The period gilded wood frame has an verre églomisé glass mat and measures 27.75" x 24.5." Likely British. Circa 1800.
Provenance: Cora Ginsburg, New York (accompanied by copy of 1981 receipt); Private Collection, Brentwood, Tennessee.
#7068 $5250